NAVIGATION DISPLAY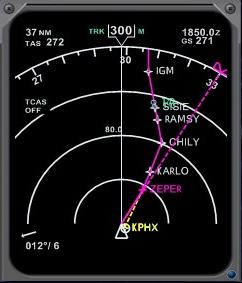 ---
Navigation display based on the look and feel of the Honeywell Navigation Display used in Boeing (737-300-500,757,767) aircraft.


Features:

· Flight Plan/Route track display

Displays active flight plan route track and waypoints, aircraft heading oriented, center map or Plan map modes. · HSI compass Rose, and Arc modes

Displays ILS/approach or route NAV information in Map compass, and ARC modes. In arc mode the tuned active Navaid position and OBS radial is displayed relative to the aircraft's position.

· Approach path display

In Map/Arc mode displays view of of FMS selected departure, and arrival runways extended center in relation to aircraft's current locattion.

· Floating T/,B/D display

Displays FMC calculated top of climb, top of descent positions.

· Airports/ Navaids Display

Displays nearby VOR's, NDB's,Intersection/Fixes and /or Airports when the Nav,APT,FIX modes are turned on.

· FIR/ARTCC boundary display

Displays nearby ARTCC/FIR Air traffic control boundaries (activated via .cfg option).

· TCAS display

Display nearby TCAS targets, and RA/TA alerts in Map modes

· Vertical deviation indication

Displays vertical deviation information in descent mode relative to the FMS calculated descent path.

· Reference FIX information

Displays in Map mode FMS specified reference Navaid/fix position, range arc, and radial relative to aircraft's current location.

· EFIS control panel

An EFIS control panel gauge is included to allow setting of the various Navigation Display modes.