EHSI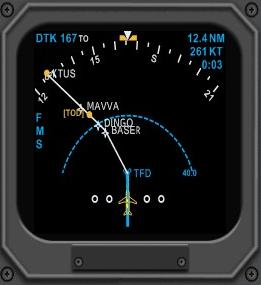 ---
Enhanced HSI displayed based on the Honeywell/King EFS40 EHSI unit.



Features:

· TCAS only display

A TCAS display option selectable via the EHSI control panel. The TCAS displays in the same screen area used by the other EHSI options and thus the Nav display is not available while the TCAS mode is on. Optionally you can install a separate TCAS only gauge that will display as TCAS only and allow you to view both the EHSI and the TCAS on the same panel.

· Standard HSI features

· Navigation display (Rose and Arc modes)

Displays the standard HSI functions, flight plan route, approach display etc.

· FIR/ARTCC boundary display

Displays nearby ARTCC/FIR Air traffic control boundaries.

· Approach path display

Displays birds eye view of approach path to show aircraft's current position relative to the approach path/course.

· Arrival runway traffic pattern display

Displays 5 nm standard traffic pattern around selected runway.

· Floating TOD/BOD display

Floating TOD display adjust to aircrafts position relative to the calculated descent path to indicate if aircraft is above or below the deacent path at its current position.

· Airport Runway configuration display

Displays Airport runway configuration when Nav display zoom is set to 2.5nm or less. This display is set to the departure airport when a new flight plan is loaded and automatically set to the arrival airport when the aircraft leaves the departure airport area.